Mass Market Paperback:
400 pages
Publisher:
HQN Books (November 28, 2017)
Sarah Morgan is back with more love and laughter in her acclaimed series, From Manhattan With Love, which Publishers Weekly calls a "sweep-you-off-your-feet romantic experience."
Determined to conquer a lifetime of shyness, Harriet Knight challenges herself to do one thing a day in December that scares her, including celebrating Christmas without her family. But when dog walker Harriet meets her newest client, exuberant spaniel Madi, she adds an extra challenge to her list—dealing with Madi's temporary dog sitter, gruff doctor Ethan Black, and their very unexpected chemistry.
Ethan thought he was used to chaos, until he met Madi—how can one tiny dog cause such mayhem? To Ethan, the solution is simple—he will pay Harriet to share his New York apartment and provide twenty-four-hour care. But there's nothing simple about how Harriet makes him feel.
Ethan's kisses make Harriet shine brighter than the stars over moonlit Manhattan. But when his dog-sitting duties are over and Harriet returns to her own home, will she dare to take the biggest challenge of all—letting Ethan know he has her heart for life, not just for Christmas?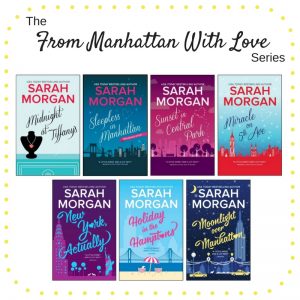 Purchase Links
About Sarah Morgan
USA Today bestselling author Sarah Morgan writes lively, sexy contemporary stories for Harlequin.
Romantic Times has described her as 'a magician with words' and nominated her books for their Reviewer's Choice Awards and their 'Top Pick' slot. In 2012 Sarah received the prestigious RITA® Award from the Romance Writers of America. She lives near London with her family.
.
Connect with Sarah
My Thoughts:
This was such a sweet holiday romance. Picture if you will, Manhattan and Christmas, adorable dogs and two people trying not to give into their feelings.
It has everything that a romance story needs and more.
Harriet has given herself a challenge, which includes doing something that scares her or makes her uncomfortable, every day in December. It is this decision that leads her to Ethan's door, and a proposal from him that she should not accept, but does so leading to some really cute moments between them, all surrounded by the beautiful sights and sounds of Christmas.
Now I know that this is the last in the Moonlight over Manhattan series, but they really can be read as stand alone books, and if you love a good cutesy romance book, then you definitely need to give this one a go.