Hardcover
: 288 Pages
Publisher
: Thomas Nelson (May 5, 2020)
Explore how to live a life of joy and fullness, especially in the midst of disappointment and broken dreams.
How do you live a full life? Perhaps the better question is, how do you really live when life throws you sucker punches, when you face obstacles that seem to snuff out your faith, when you lose something or someone precious to you?
In
The Fight to Flourish
, Jennie Lusko encourages women to suit up and thrive, not just in the dailies of monotony and routine but even in the most desolate of places. Using the backdrop of her second-born daughter Lenya's passing into heaven five days before Christmas in 2012, Jennie invites readers to embrace whatever destination they've landed.
She teaches how, through the good and the bad, they can learn to grow, be strong, draw near to God, and be a blessing to others. It is in this sacred space of pain and promise that women can begin to flourish.

Purchase Links
About Jennie Lusko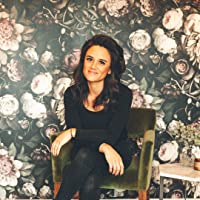 Jennie Lusko serves alongside her husband, Levi, leading Fresh Life Church in Montana, Utah, Oregon, and Wyoming. They have five incredible children: Alivia, Daisy, Clover, Lennox, and Lenya, who is in heaven. The Luskos live in Montana, which boasts the largest snowflake ever recorded in history, one and a half times larger than a competition frisbee.
One of Jennie's greatest joys and calling is sharing the hope and freedom found in Jesus to those stranded in sin. She feels most alive when she's helping people and giving gifts.
Connect with Jennie
REVIEW:
I want to begin by letting you know that I'm not quite finished with the book. I received it a little late, so didn't get as much to dive right in as much as I would have liked to.
Nevertheless, even though I'm not finished, I feel quite confident that I can review what I've read so far.
To put it simply, you need to get yourself a copy of The Fight to Flourish.
Jennie Lusko and her husband suffered a heartbreaking blow, when their 5 year old healthy daughter passed away unexpectedly. I can't even begin to put myself in their shoes, it is a pain that I have not experienced, and hope to never have to experience it.
What Jennie does is turn a tragic event into a way to flourish in her journey as a woman and a Christian.
I know from my own experience, that the moments we are in the storm, albeit the hardest and most painful at times, are also the moments where we learn and grow the most. It isn't easy to see the light on the other side, and so at times we give in to the pain or the grief.
Jennie encourages us all to stand firm in the love of Christ, to keep going, to push through, and to flourish. She uses her own journal entries to guide us and show us how to survive, to breathe through those times where it feels unbearable to even get out of bed.
Absolutely brilliant book that I believe any woman of faith, should have in her library.
Thank you to TLC Tours and the Thomas Nelson publishers, for providing me with a review copy of this book, in exchange for my honest review.