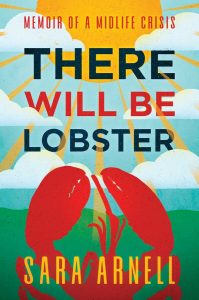 About There Will Be Lobster
• Publisher: Savio Republic (July 20, 2021)
• Hardcover: 176 pages
You know her. You've seen her. You may even see yourself in her.
If you're arriving to the midlife crisis party—the one that's serving low self-esteem, desperation, unreliable behavior, forgetfulness, carelessness, and the loneliness of loss—the stories and anecdotes in this memoir will assure you that you are not alone.
For Sara Arnell, it took a rogue lobster, a dying rock star, an eighteen-pound tumor, a meditation guru, a famous medium, and a former monk to put her on a path toward light, hope, and healing. If reading this book helps even one person, according to Sara, then telling this story is all worth it.
Purchase Links

About Sara Arnell
While working alongside acclaimed fashion icon Andre Leon Talley at Vanity Fair magazine in her mid-20's, Sara was offered an opportunity to write a press release for fashion designer, Donna Karan, who was about to launch one of her acclaimed collections. This moment marked the beginning of Sara's impressive thirty-year career in fashion, writing and advertising.
Sara worked as Chief Strategy Officer at one of New York's most renowned and successful advertising agencies, eventually rising to CEO. Under her long tenure, she broke new ground, winning awards and global recognition for her agency and its clients. She traveled the world, working with some of the best known and most beloved consumer brands such as Pepsi, Samsung, McDonalds and Goop.
Today, Sara is a Professor at The New School's Parsons School of Design and continues to consult with the world's top brands on marketing strategy and brand design. She regularly advises start-ups and entrepreneurs and has served on several boards for educational institutions. She is a sought after speaker and founder of Karmic, a platform for 'what-you-do-comes-back-to-you' ideas and advice. Sara has a BA from Skidmore College and an MFA from Sarah Lawrence College. She is the mother of three children and one small poodle.
Find out more about Sara at her website, and follow her on Instagram.
REVIEW:
Sara Arnell digs into the midlife crisis phase that hits us all, but specifically told from a woman point of view.
As we get older, we tend to start questioning certain things. What is our role in our children's lives, our husband, our family, in society in general? Do we fit in, do we know what we're doing, or are we missing something that needs to yet be found?
Sara tells of her own struggles through the midlife crisis party, through short chapter filled with anecdotes and stories, that will definitely have you nodding your head in agreement and laughing along at times.
I related to so many things the author mentioned. Aging does bring about a need to self reflect and look deep within. And it's that realization that Sara taps into, as she navigates life.
I enjoyed this memoir, it made me reflect on my own life, but brought some comedic relief too through the authors own stories.
Thank you to TLC Book Tours and Savio Republic publishers, for providing me with a review copy.