Good morning everyone, happy Monday :)
I feel like this weekend just flew right by, but it was a good weekend, I did some gardening, got the patio ready for the summer and started pulling weeds out front. That is a never ending job, and after about an hour, I gave up. I'll get back to it this week though.
We are done with school, so aside from driving Jasmine to and from work, I have a pretty easy week coming up.
Also, I wanted to quickly mention my sidebar. If you noticed, last week I had a whole week's worth of workouts posted and I marked them done as I got through them. When I redid my template yesterday, I added this week's all new workout routines.
I plan on doing that every week, for myself. It helps me stay motivated and holds me accountable too. But, if they motivate one of you to also start a home workout routine, then all the better, right? :)
Anyway, let's see what is going on in our households, shall we?
The weather:::
The past 3 days, the temperatures have dropped down to the 50's and I've actually felt cold at night. Crazy weather, I tell you. But this week we are back to warm temps and quite a lot of sun.
Monday
- Mostly Sunny, 82º
Tuesday
- Sunny, 85º
Wednesday
- Sunny, 86º
Thursday
- Sunny, 86º
Friday
- Mostly Cloudy, Wind, 85º
Saturday
- AM Thunderstorms, 81º
Sunday
- Sunny, 84º
On my reading pile:::
I have two books coming up for review, and have not yet received either, so at the moment I am reading absolutely nothing.
Movies or Shows I watched this weekend:::
I watched an episode of Portals to Hell, but nothing else.
On my TV this week:::
General Hospital
Juana Ines
Homemaking vlogs
The Spanish Princess
When Calls the Heart
On the menu for this week:::
I only have meals until Friday, I am working on the new meal plan this week and will be grocery shopping either Friday or Saturday morning.
Monday
Sticky Asian Chicken
with Basmati Rice
Tuesday
Pork Parmigiana
with Spaghetti Noodles
Wednesday
Chicken a la King
, Mashed Potatoes
Thursday
Hay and Straw
, Salad
Friday
Feijoada com arroz
(Portuguese Bean Stew)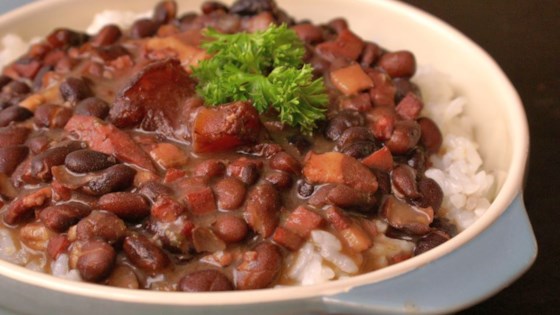 On my to do list:::
Vacuum and carpet clean
Dust
Clean windows in dining and living room
Clean out the bird cage
Start menu planning
What I am sewing, crocheting, knitting or creating:::
I picked up my Cosmic CAL again, I was missing doing some blankets and this project has been waiting around for a while.
I also have some summer dresses I want to sew. I plan on wearing a lot more dresses this summer, instead of shorts. I don't know why, but I'm kind of feeling like I am over the whole shorts thing as I get older, and would rather wear some fun summer dresses or capris. The shorts will be for when I'm home, but for going out anywhere, definitely not.
Looking forward to:::
A more relaxed and quiet week ahead. Also really can't wait to get my new cheapy lens and am hoping, so badly, that it works.
Looking around the house:::
Nick was playing with his VR all weekend and when he does that, he needs to move the coffee table out of the way. Being the teenager that he is, when he's done, he doesn't put things back where they should be. I need to get the living room tidy and things put back in place. The house is not dirty otherwise, so I'm just going to do the usual daily cleaning.
From the camera:::
I cleaned out the patio area, pulled the table out and chairs and gave everything a good clean out there. This guy lives on our patio, in the corner. He or she, just sits there, I can sweep around it, throw water about and it doesn't mind one bit. I was able to use my zoom lens to get a picture, but I to step back quite far for that LOL Nevermind though, long as I can get a pic or two for the blog, that's really what matters, right?
What I'm wearing today:::
Still in my nightie, it's been a slow morning since I don't have to rush anywhere today. I'll pop on a dress or skirt soon, or maybe shorts since I'm just staying home.
One of my simple pleasures:::
Sitting out on the patio, surrounded by my plants, with a citronella candle burning to keep the bugs away, and reading a good book.
Bible verse, Devotional, prayers:::