About Family Tree
• Paperback:
400 pages
• Publisher:
William Morrow Paperbacks; Reprint edition (January 9, 2018)
From the #1
New York Times
bestselling author comes a powerful, emotionally complex story of love, loss, the pain of the past—and the promise of the future.
Sometimes the greatest dream starts with the smallest element. A single cell, joining with another. And then dividing. And just like that, the world changes. Annie Harlow knows how lucky she is. The producer of a popular television cooking show, she loves her handsome husband and the beautiful Los Angeles home they share. And now, she's pregnant with their first child. But in an instant, her life is shattered. And when Annie awakes from a yearlong coma, she discovers that time isn't the only thing she's lost.
Grieving and wounded, Annie retreats to her old family home in Switchback, Vermont, a maple farm generations old. There, surrounded by her free-spirited brother, their divorced mother, and four young nieces and nephews, Annie slowly emerges into a world she left behind years ago: the town where she grew up, the people she knew before, the high-school boyfriend turned judge. And with the discovery of a cookbook her grandmother wrote in the distant past, Annie unearths an age-old mystery that might prove the salvation of the family farm.
Family Tree
is the story of one woman's triumph over betrayal, and how she eventually comes to terms with her past. It is the story of joys unrealized and opportunities regained. Complex, clear-eyed and big-hearted, funny, sad, and wise, it is a novel to cherish and to remember.
Campaign hashtag for Twitter and Instagram posts: #FamilyTree. Also tag @williammorrowbooks and @TLCBookTours.

Purchase Links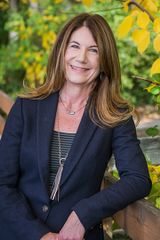 Life at Six Knots Photography
About Susan Wiggs
Susan Wiggs is the #1
New York Times
bestselling author of more than fifty novels, including the beloved Lakeshore Chronicles series and her most recent novel, the instant
New York Times
bestseller
Family Tree
. Her award-winning books have been translated into two dozen languages. A native of a small town in upstate New York, she now lives with her husband at the water's edge on an island in Puget Sound, and in good weather can commute to her writers' group in a twenty-one-foot motorboat. A former teacher and graduate of the University of Texas and Harvard, Susan is also an avid hiker, an amateur photographer, a good skier, and a cautious mountain biker—yet her favorite form of exercise is curling up with a good book.
Find out more about Susan at her
website
, and connect with her on
Facebook
,
Twitter
, and
Instagram
.
My Thoughts:
I love Susan Wiggs, I don't think there's ever been one of her books that I didn't enjoy, and Family Tree is yet another to add to that list.
The story starts off with Annie, in California, living the good life. She is the producer of a popular cooking TV show and she has what she considers a handsome great husband, who happens to be the host of the show. Everything seems to be just right in her life, and the cherry on the cake is when she finds out she is pregnant.
She is eager to tell her husband and rushes off to work to find him. What she ends up coming face to face with, is something that knocks her off her feet. She quite literally finds him in bed with the co host of the show. As she tries to run from that encounter, Annie is caught in a work related accident when a huge scaffold gives out crushing her beneath.
Annie wakes up a year later, from a coma, not knowing exactly what happened, how she got to the hospital and where she is.
Not only has she lost a year of her life, she lost her baby, is now divorced and no longer in California, but in Vermont with her divorced parents, brother and his family which include nieces and nephews, living in her family maple farm.
I absolutely love how Susan Wiggs told the story from Annie's perspective but also from those surrounding her. The book goes back and forth a few times between THEN and NOW as it gives us the backstory of hers first love Fletcher, who is also in Vermont, divorced, with a young son and now the local judge. We also get to learn more about her mother and father and their struggles leading to a possible reconnection after Annie's accident.
But that is not all because Annie discovers a cookbook that her grandmother wrote, and that may just be what they need to save the family farm.
Beautiful story of family and unconditional love.
I'll be honest with you, I read this book in one night, I could not put it down.