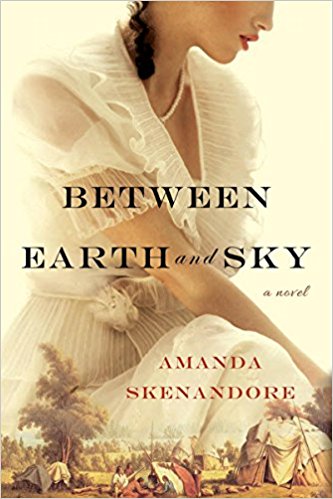 Paperback:
304 pages
Publisher:
Kensington (April 24, 2018)
In Amanda Skenandore's provocative and profoundly moving debut, set in the tragic intersection between white and Native American culture, a young girl learns about friendship, betrayal, and the sacrifices made in the name of belonging.
On a quiet Philadelphia morning in 1906, a newspaper headline catapults Alma Mitchell back to her past. A federal agent is dead, and the murder suspect is Alma's childhood friend, Harry Muskrat. Harry—or Asku, as Alma knew him—was the most promising student at the "savage-taming" boarding school run by her father, where Alma was the only white pupil. Created in the wake of the Indian Wars, the Stover School was intended to assimilate the children of neighboring reservations. Instead, it robbed them of everything they'd known—language, customs, even their names—and left a heartbreaking legacy in its wake.
The bright, courageous boy Alma knew could never have murdered anyone. But she barely recognizes the man Asku has become, cold and embittered at being an outcast in the white world and a ghost in his own. Her lawyer husband, Stewart, reluctantly agrees to help defend Asku for Alma's sake. To do so, Alma must revisit the painful secrets she has kept hidden from everyone—especially Stewart.
Told in compelling narratives that alternate between Alma's childhood and her present life,
Between Earth and Sky
is a haunting and complex story of love and loss, as a quest for justice becomes a journey toward understanding and, ultimately, atonement.
"Gripping and beautifully written, Between Earth and Sky tugs at the heart with its dynamic heroine and unique cast of characters. Though this novel brings alive two historical American eras and settings, the story is achingly modern, universal and important."–Karen Harper, New York Times bestselling author of The It Girls
"A masterfully written novel about the heart-wrenching clash of two American cultures . . . a fresh and astonishing debut." –V.S. Alexander, author of The Magdalen Girls and The Taster
"A sweeping tale of courage, friendship, and love, Between Earth and Sky held me spellbound. This engrossing novel transports the reader to frontier America, amid the tensions between the White Man, the Natives, and those who longed to bridge the gap in understanding and compassion. Skenandore doesn't miss a beat—her elegant prose sings, Alma and Harry's story mesmerizes, and the evocative setting feels all too real. I adored this book!"–Heather Webb, author of Last Christmas in Paris: A Novel of WWI

Purchase Links

About Amanda Skenandore
Amanda Skenandore
is a historical fiction writer and registered nurse. In writing
Between Earth and Sky
, she has drawn on the experiences of a close relative, a member of the Ojibwe Tribe, who survived an Indian mission school in the 1950s.
Between Earth and Sky
is Amanda's first novel. She lives in Las Vegas, Nevada. Readers can visit her website at
www.amandaskenandore.com
.
Connect with Amanda
My Thoughts:
You all know how I'm a history buff and absolutely LOVE historical novels.
Between Earth and Sky is about a part of our history that I am quite fascinated with, but also a part of history that is sometimes quite difficult to talk about.
It takes place between the 1800's and the early 1900's, at a Christian boarding school who takes in native american children to assimilate into their culture and tradition.
Alma is the main character and the school is run by her father, she is the only white pupil amongst the native american children and is expected to set an example and help them learn the white man's ways.
Years and years in the future, Alma is married and living her own life, far from the heartbreaking life she led as a child, but a newspaper article sends her thoughts right back to those days, right after the Indian Wars.
One of the students that Alma admired, Asku, is now a grown man himself, and being accused of murder. Alma's husband does not want to get involved but agrees to help defend him in the case. Unfortunately for Alma, it means having to revisit old memories and painful days that she would rather leave in her past.
This story was written exquisitely well, painting a very vivid image of the hardships the children had to endure when removed from their reservations and forced to become something they weren't.
It was quite hard to read at times, but only because it makes you feel so deeply for everyone involved. It shifts between her current life and the childhood home she knew.
As a history lover, I have to give this book a 5, it was that good.