Paperback:
336 Pages
Publisher:
Thomas Nelson (May 28, 2019)
Hamish DeLuca and Regina "Reggie" Van Buren have a new case—and this one could demand a price they're not willing to pay.
Determined to make a life for herself, Reggie Van Buren bid goodbye to fine china and the man her parents expected her to marry and escaped to Boston. What she never expected to discover was that an unknown talent for sleuthing would develop into a business partnership with the handsome, yet shy, Hamish DeLuca.
Their latest case arrives when Errol Parker, the leading base stealer in the Boston farm leagues, hires Hamish and Reggie to investigate what the Boston police shove off as a series of harmless pranks. Errol believes these are hate crimes linked to the outbreak of war in Europe, and he's afraid for his life. Hamish and Reggie quickly find themselves in the midst of an escalating series of crimes.
When Hamish has his careful constructed life disrupted by a figure from his past, he is driven to a decision that may sever him from Reggie forever . . . even more than her engagement to wealthy architect Vaughan Vanderlaan.

Purchase Links
About Rachel McMillan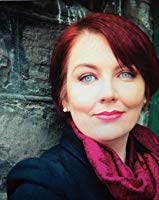 Rachel McMillan is the author of the Herringford and Watts mysteries, the Three Quarter Time series of contemporary romances set in opulent Vienna, and the Van Buren and DeLuca mysteries praised for bringing an authentic 1930's Boston world to life while normalizing the fictional conversation surrounding mental illness. Her first work of non-fiction, described as a romantic's guide to independent travel, releases in 2020. Rachel lives in Toronto, Canada.
Connect with Rachel
My Thoughts:
I need to start this by saying that I love historical romances and I have grown to enjoy a good mystery here and there. However, with that said, I find that this one fell a bit short for me and I didn't quite enjoy it as much as I thought I would.
The story itself is not the issue, I feel that maybe the execution of it didn't quite come across as well as it should have. For me, and that's obviously what this review is, my own opinions on the book.
I found it a bit hard to get into, and it didn't help that it took almost halfway through the book for a body to even show up.
Another thing, this is the second book in a series, and while usually I don't find that it affects my reading in any way, shape or form, I did quickly realize that maybe this book needs to be read ONLY after you've read the first in the series. Again, maybe it just didn't come across as well for me, but I was quite confused in some areas and definitely felt like I was lacking background info which ended up affecting the way I read it.
I love Rachel McMillan and it certainly won't stop me from reading her works in the future, but unfortunately sometimes a book won't click with you, and this one was it for me. I wish I could say I finished the whole story, but I didn't, I lost interest and no matter how much I tried to pick it back up and regain some sort of interest, it just didn't happen.
Please don't let that stop you from reading it though, we are all different and we all interpret things differently, what may not work for me, may just be the best book you've ever read.
I will say that the author did a fantastic job vividly painting a picture of the 1940's era, and the setting itself was fantastic, so if you're interested in those eras, you may just really enjoy this one :)