Hardcover:
298 Pages
Publisher:
Lake Union Publishing (December 3, 2019)
An unforgettable novel about the power of friendship and kindness by the New York Times bestselling author of Pay It Forward.
In the summer of 1969, fourteen-year-old Lucas Painter carries a huge weight on his shoulders. His brother is fighting in Vietnam. His embattled parents are locked in a never-ending war. And his best friend, Connor, is struggling with his own family issues. To find relief from the chaos, Lucas takes long, meandering walks, and one day he veers into the woods.
There he discovers an isolated cabin and two huge dogs. Frightened, he runs. And the dogs run with him. Lucas finds unusual peace in running with the dogs, and eventually he meets their owner, Zoe Dinsmore. Closed off and haunted by a tragic past, Zoe has given up. She doesn't want to be saved. She wants out. But Lucas doesn't want her to go, and he sees an opportunity to bring more than one friend back into the light. It's either the best or worst idea he's ever had, but Lucas isn't giving up on Zoe or Connor.
Their unexpected connection might be the saving grace that Zoe thought she'd lost, that Connor needs, and that Lucas has been running toward.
Purchase Links
Amazon
|
Books-A-Million
|
Barnes & Noble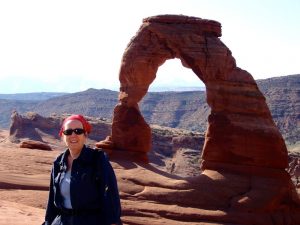 About Catherine Ryan Hyde
Catherine Ryan Hyde is the author of more than thirty published and forthcoming books. An avid hiker, traveler, equestrian, and amateur photographer, she has released her first book of photos, 365 Days of Gratitude: Photos from a Beautiful World.
Her novel Pay It Forward was adapted into a major motion picture, chosen by the American Library Association (ALA) for its Best Book for Young Adults list, and translated into more than twenty-three languages for distribution in over thirty countries. Both Becoming Chloe and Jumpstart the World were included on the ALA's Rainbow List, and Jumpstart the World was a finalist for two Lambda Literary Awards. Where We Belong won two Rainbow Awards in 2013, and The Language of Hoofbeats won a Rainbow Award in 2015.
More than fifty of her short stories have been published in the Antioch Review, Michigan Quarterly Review, Virginia Quarterly Review, Ploughshares, Glimmer Train, and many other journals, and in the anthologies Santa Barbara Stories and California Shorts and the bestselling anthology Dog Is My Co-Pilot. Her stories have been honored in the Raymond Carver Short Story Contest and the Tobias Wolff Award and nominated for the O. Henry Award and the Pushcart Prize. Three have been cited in The Best American Short Stories.
She is founder and former president (2000–2009) of the Pay It Forward Foundation and still serves on its board of directors. As a professional public speaker, she has addressed the National Conference on Education, twice spoken at Cornell University, met with AmeriCorps members at the White House, and shared a dais with Bill Clinton.
Connect with Catherine
Website
|
Facebook
|
Twitter
My Thoughts:
Catherine Ryan Hyde takes us back into the 1960's, and throws us into the middle of a chaotic time. Vietnam is on everyone's mind and nearly everyone either has a family member fighting in the war, or knows of someone who is serving.
We meet Lucas a 14 year old dealing with the usual ups and downs of teen life, but with the added stresses that come with having brother off in Vietnam. The constant worry about his well being, missing his presence, and feeling like he can't really turn to anyone without feeling like a burden.
Lucas' parents are in a constant state of fighting and the idea of a quiet home to escape to when he is feeling the burden of life around him, is non existent. His friend Connor is dealing with his own issues, which just add to the ever growing overwhelming feeling that Lucas is desperately needing to escape.
He sets off on a walk into the woods, just needing a place to run to, to clear his head, to feel like life is normal. On one of his walks, he comes upon an isolated cabin, and before he even thinks of exploring inside, he is met by two huge dogs. Fearing being attacked, Lucas runs and right alongside him, the dogs run with him. This simple act by the two big giants, becomes one of his favorite daily moments. Soon he meets the dogs owners, Zoe, a hermit who is herself trying to escape life, people and the ever chaotic hum drum around her.
That encounter sets off a chain of events that will be the catapult to a story of coming of age, of finding comfort and support where you least expect it, and of learning to take life's blows as they come. Life is about choices, some we make in the spur of the moment, some we take longer to mull over but each one brings along a set of consequences that we sometimes are not prepared to face.
The story is told from Lucas' perspective, and I wasn't sure at first who was narrating or to whom, because it's clear that someone is telling a story, reminiscing, recounting details. Lucas is the one telling the story, and he goes back and forth from past to present in order to paint a clear picture for us of that period in his life, and the people who had the biggest impact when he needed help the most.
I received this book free from the publisher through TLC Book Tours. The views and opinions expressed in this review, are my own and in no way expected by either the publisher or TLC Book Tours.