• Paperback:
640 pages
• Publisher:
William Morrow Paperbacks; Reprint edition (February 4, 2020)
One of BookBub's best historical novels of the year and Oprah magazine's buzziest books of the month.
From the New York Times bestselling author of Mrs. Lincoln's Dressmaker, an enthralling historical saga that recreates the danger, romance, and sacrifice of an era and brings to life one courageous, passionate American—Mildred Fish Harnack—and her circle of women friends who waged a clandestine battle against Hitler in Nazi Berlin.
After Wisconsin graduate student Mildred Fish marries brilliant German economist Arvid Harnack, she accompanies him to his German homeland, where a promising future awaits. In the thriving intellectual culture of 1930s Berlin, the newlyweds create a rich new life filled with love, friendships, and rewarding work—but the rise of a malevolent new political faction inexorably changes their fate.
As Adolf Hitler and his Nazi Party wield violence and lies to seize power, Mildred, Arvid, and their friends resolve to resist. Mildred gathers intelligence for her American contacts, including Martha Dodd, the vivacious and very modern daughter of the US ambassador. Her German friends, aspiring author Greta Kuckoff and literature student Sara Weitz, risk their lives to collect information from journalists, military officers, and officials within the highest levels of the Nazi regime.
For years, Mildred's network stealthily fights to bring down the Third Reich from within. But when Nazi radio operatives detect an errant Russian signal, the Harnack resistance cell is exposed, with fatal consequences.
Inspired by actual events,
Resistance Women
is an enthralling, unforgettable story of ordinary people determined to resist the rise of evil, sacrificing their own lives and liberty to fight injustice and defend the oppressed.

Purchase Links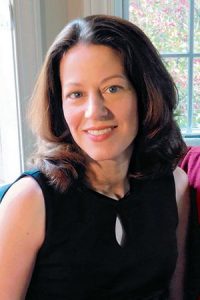 About Jennifer Chiaverini
Jennifer Chiaverini is the
New York Times
bestselling author of several acclaimed historical novels and the beloved Elm Creek Quilts series. A graduate of the University of Notre Dame and the University of Chicago, she lives with her husband and two sons in Madison, Wisconsin.
Find out more about Jennifer at her
website
, and connect with her on
Facebook
,
Twitter
, and
Instagram
.
My thoughts:
I am huge fan of Jennifer Chiaverini, and find her to be one of the best historical fiction writers.
In Resistance Women, Chiaverini brings us the story of some remarkably strong women, trying to keep it together during one of the worst times in history. Hitler's evil reign.
The start of the book was a bit slow and at times slightly confusing, as the story shifts back and forth between the women. I don't enjoy books who go back and forth because I often find that I get lost along the way, and it felt that I was headed the same direction with Resistance Women. But, what Chiaverini was doing in fact, was setting the stage and giving us the background to the actual story that would kick off soon after. I'm glad I stuck through and kept at it, because I felt that knowing these women's upbringings and life before everything started to implode, gave me a much better understanding where they were all coming from, further down the pages.
Resistance Women spans the years of 1929 through 1946. I must say that amongst the characters in the group, I was most pulled towards Mildred Harnack, and the book actually starts with Mildred's story and her journey from America to Germany to join her German husband. If you don't know who Mildred Harnack is, she is an actual person, not fictional, and played a pivotal role in the resistance against a Nazi Germany.
I just found her so fascinating.
Mildred along with her friends Sara, Martha and Greta create a circle of strong, no nonsense women who are determined not to be forced out of their homes, and sacrifice themselves and their own freedom to fight against a quickly rising Nazi regime.
From Hitlers rise to power and all through World War II, we are privy to the atrocities that Germany endured, as well as the amazing men and women that fought back with everything they had. This book is much more than a story, it is based on true events
If you love historical fiction, this book needs to be on your shelf.
Thank you to TLC Tours and the publisher for providing me with a review copy of this book, in exchange for my honest review.