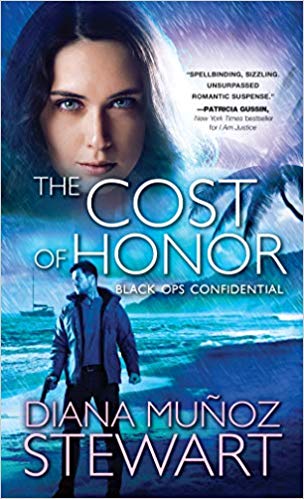 Mass Market Paperback:
352 pages
Publisher:
Sourcebooks Casablanca (November 26, 2019)
He gave up everything to escape his family
The only male to be adopted into the notorious Parish family, Tony Parish always did right by his vigilante sisters. But when an attempt to protect one of them went horribly wrong, he had to fake his own death to escape his fanatical family. Tony set sail and ended up in Dominica?face to face with the woman of his dreams…
Now he must give up Honor to save her
After the death of her mother, Honor Silva moved to Dominica, where her family could help her heal and move on. But her activist mother left her more than money, she left her proof that could take down one of the richest and most powerful men in the world.
Tony gave up everything he thought he knew when he fled his family. But when a threat too dangerous for Tony and Honor to fight on their own closes in, he has no choice but to go to them for help. Problem is, they'll demand something in return?something that could cost Tony not just Honor, but also the love that changed him forever.
Black Ops Confidential Series:
I Am Justice (Book 1)
The Price of Grace (Book 2)
The Cost of Honor (Book 3)
Readers are raving about the Black Ops Confidential series:
"A high-octane…satisfying roller-coaster ride. Stewart's talent shines."–
Publishers Weekly
for
The Price of Grace
"Electrifying, edgy, and sexy!"–
JULIE ANN WALKER
,
New York Times
bestseller, for
I Am Justice
"Witty, dangerous, fun, and smoking hot."–
CINDY DEES
,
New York Times
bestseller, for
I Am Justice

Purchase Links

About Diana Munoz Stewart
Diana Munoz Stewart is the award-winning, romantic suspense author of the Band of Sisters series, which includes I Am Justice, I Am Grace, and I Am Honor. Visit her at
dianamunozstewart.com
.
Connect with Diana
My Thoughts:
First I need to say that this book is the third in a series called Black Ops Confidential, so unfortunately I went into it blind and not really knowing what to expect, since I didn't read the previous two books.
There were a few moments that I felt like I was missing some background information, and had I kept up with the previous storyline, I probably would have understood, but nonetheless I was able to stay on track just from this book.
The story follows Tony and Honor.
The premise is pretty predictable, guy is trying to start fresh in a new place, meets and falls in love with a girl who has enough baggage for the both of them.
Tony was the only male in a family of predominantly females, but an incident going awry, caused him to flee, fake his own death and end up in Dominica, trying to just stay in the shadows and start a new life.
Honor is still reeling from her mother's death and trying to move on herself. She has been living in Dominica with her family who have tried everything to help her heal and move on from the grief. The problem is that her mother left her some pretty serious information, which if Honor follows through on, will bring down a huge corrupt organization and with it an infamous powerful man.
The rest we know how it goes, Tony tries to fight his feelings for Honor while wanting desperately to protect her, which causes him to get caught up in this huge mess of a dangerous situation. In the end they may just need to sacrifice more than they want to in order to stay safe.
The book was an easy read, like I said pretty predictable, but then again I am never one to shy away from books or even movies like that. It's that sweet romance that pretty much gives you the ending form the beginning, but you still follow along page by page, rooting for the two characters to end up together.
Thank you to TLC Tours and the publisher for providing me with a review copy of this book, in exchange for my honest review.