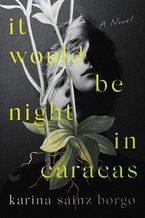 • Hardcover:
240 pages
• Publisher:
HarperVia (October 15, 2019)
Told with gripping intensity, It Would be Night in Caracas chronicles one woman's desperate battle to survive amid the dangerous, sometimes deadly, turbulence of modern Venezuela and the lengths she must go to secure her future.
In Caracas, Venezuela, Adelaida Falcón stands over an open grave. Alone, she buries her mother—the only family she has ever known—and worries that when night falls thieves will rob the grave. Even the dead cannot find peace here.
Adelaida had a stable childhood in a prosperous Venezuela that accepted immigrants in search of a better life, where she lived with her single-mother in a humble apartment. But now? Every day she lines up for bread that will inevitably be sold out by the time she reaches the registers. Every night she tapes her windows to shut out the tear gas raining down on protesters.
When looters masquerading as revolutionaries take over her apartment, Adelaida must make a series of gruesome choices in order to survive in a country disintegrating into anarchy, where citizens are increasingly pitted against each other. But just how far is she willing to go?
A bold new voice from Latin America, Karina Sainz Borgo's touching, thrilling debut is an ode to the Venezuelan people and a chilling reminder of how quickly the world we know can crumble.

Purchase Links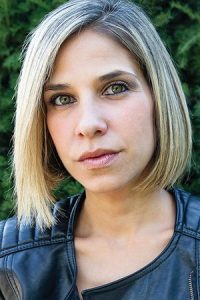 About Karina Sainz Borgo
Karina Sainz Borgo was born and raised in Caracas. She began her career in Venezuela as a journalist for
El Nacional
. Since immigrating to Spain ten years ago, she has written for
Vozpópuli
and collaborates with the literary magazine
Zenda
. She is the author of two nonfiction books, Tráfico y Guaire (2008) and
Caracas Hip-Hop
(2008).
It Would Be Night in Caracas
is her first work of fiction.
Follow her on
Twitter
.
My Thoughts:
I had always heard about Venezuela's tumultuous history, so when I had the opportunity to review this book, I was quite excited.
The story follows Adelaida, trying to survive in a chaotic Venezuela that is quickly slipping into anarchy. The home she once knew as a wonderful place to live, is now fraught with hardships.
For someone like me who loves history and actually knows a bit of what the author was talking about, it made perfect sense, but I think someone who comes into it not knowing a single thing about the country's history, they may find themselves a bit confused.
There wasn't a lot of background given, or details or much of anything explaining the actual history, other than how Adelaida was reacting to it. The story itself is heartbreaking and I couldn't imagine having to live through something like that.
Thank you to TLC Tours and the publisher for providing me with a review copy of this book, in exchange for my honest review.