• Hardcover:
352 pages
• Publisher:
William Morrow (April 14, 2020)
The critically acclaimed, bestselling author of News of the World and Enemy Women returns to Texas in this atmospheric story, set at the end of the Civil War, about an itinerant fiddle player, a ragtag band of musicians with whom he travels trying to make a living, and the charming young Irish lass who steals his heart.
In March 1865, the long and bitter War between the States is winding down. Till now, twenty-three-year-old Simon Boudlin has evaded military duty thanks to his slight stature, youthful appearance, and utter lack of compunction about bending the truth. But following a barroom brawl in Victoria, Texas, Simon finds himself conscripted, however belatedly, into the Confederate Army. Luckily his talent with a fiddle gets him a comparatively easy position in a regimental band.
Weeks later, on the eve of the Confederate surrender, Simon and his bandmates are called to play for officers and their families from both sides of the conflict. There the quick-thinking, audacious fiddler can't help but notice the lovely Doris Mary Dillon, an indentured girl from Ireland, who is governess to a Union colonel's daughter.
After the surrender, Simon and Doris go their separate ways. He will travel around Texas seeking fame and fortune as a musician. She must accompany the colonel's family to finish her three years of service. But Simon cannot forget the fair Irish maiden, and vows that someday he will find her again.
Incandescent in its beauty, told in Paulette Jiles's trademark spare yet lilting style,
Simon the Fiddler
is a captivating, bittersweet tale of the chances a devoted man will take, and the lengths he will go to fulfill his heart's yearning.

Purchase Links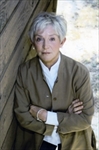 About Paulette Jiles
Paulette Jiles is a novelist, poet, and memoirist. She is the author of
Cousins
, a memoir, and the novels
Enemy Women, Stormy Weather, The Color of Lightning, Lighthouse Island
, and
News of the World
, which was a finalist for the 2016 National Book Award
.
She lives on a ranch near San Antonio, Texas.
Find out more about Paulette at her
website
.
REVIEW:
This is my second Paulette Jiles book and I think she is quickly becoming one of my most liked book authors. Aside from the fact that her books are usually written in a time periods that I absolutely love reading about, she has a wonderful way of writing in that it flows smoothly, from sentence to sentence and page to page.
There's a beautiful fluidity to her writing that I very much appreciate.
So, Simon the Fiddler, again takes us back in time, to 1865 more specifically, and to a time where civil war was very much at the forefront of our country's news. Simon is a fast talker, a bender of truth if you will, young looking, lover of music who has managed to avoid going to war, for either side.
His focus is playing the fiddle and he does so beautifully. But that all changes when a broom inside a bar, sees him forced into service and fighting for the Confederate army. It's not something Simon wants to do, but luckily for him, once again, his talent in playing the fiddle lands him a position with the Confederate band.
It is during a performance for officers of the both sides, at the end of the Civil War, that Simon lays eyes on Doris, a beautiful indentured servant girl from Ireland. As much as he wants to make her his, and keep her safe, he has to let her go in order for her to finish off her 3 years of servitude. He is determined to wait for Doris, and he does.
What we get to witness, is a beautiful story of two people very much in love, who will go through hell on earth and do whatever is needed to be together.
Thank you to TLC Tours and the publisher for providing me with a review copy of this book, in exchange for my honest review.