Hardcover
: 240 Pages
Publisher
: Thomas Nelson (July 14, 2020)
From the star of
Say Yes to the Dress: Atlanta
, now filming its eleventh season for TLC, comes a book and a life-makeover movement for women approaching fifty and beyond.
Move over, girlfriend, Lori Allen is here to help you say yes to what's next! Star of
Say Yes to the Dress: Atlanta
, Lori Allen uses her confidence, wisdom, and signature humor not only to help young brides on their most important day ever but also to model to them and their mothers how to live out the coming years as the best of their lives.
Lori Allen is owner/operator of one of the biggest and busiest bridal mega-salons in the country, Atlanta's Bridals by Lori. But she's also a wife, mother, grandmother, and breast cancer survivor.
Whether you're feeling invisible, disappearing into the fabric of your couch a little more every year, or simply being indecisive about what's next, Lori offers herself as the poster child of what to do, not do, and how to see your way through the unexpected.
In
Say Yes to What's Next
she addresses essential issues, such as
don't let yourself go,
marriage is awesome, but it's no fairytale,
keep your mouth shut and your heart open to your kids (and they'll bring you grandkids),
make time to parent your parents,
maintain a close circle of girlfriends,
get off the couch and live your passion,
take charge of your money, and
what to do when life gives you a faceplant.
Say Yes to What's Next
is a life makeover and therapy session from a relatable you-can-and-you-should-do-this straight-shooter as Lori helps women shape their own futures with confidence, style, and sass.

Purchase Links
About Lori Allen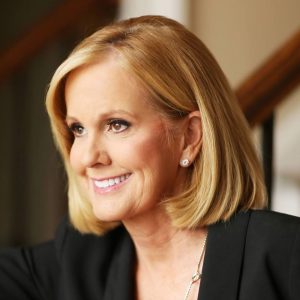 Lori Allen opened Bridals by Lori just two weeks after graduating from the all-female Columbia College in South Carolina. Four decades later, she is one of the world's foremost experts on bridal couture and the central figure of TLC's reality show
Say Yes to the Dress: Atlanta
, filmed on site at Lori's bridal salon and shown in more than 120 countries.
Lori's role as a bridal expert, successful female business entrepreneur, TV personality, and breast cancer survivor has led her to interviews by top-tier media outlets, including CNN, ABC's
Good Morning America
, NBC's
Today
, and the
Wall Street Journal
. She currently resides in Atlanta with her husband, Eddie, and, thankfully, not far from their son and his wife, daughter and her husband, and granddaughters.
Connect with Lori
REVIEW:
Oh boy!!
If you want to get down to the nitty gritty of this ageing stuff, you have to get your hands on Lori Allen's book.
I laughed, I cried for her and I nodded constantly throughout the book. It reads almost like a letter from an old friend just checking in and basically telling you what they've been through the past few years.
Lori is well known for her show Say Yes to The Dress. Always impeccably dressed, with an air of confidence and assurance about her, but behind the expensive clothes, the jewelry and the big smile, is a woman who has gone through a lot, and I mean a LOT.
It happens to us all. As much as we want to hold on to our youth, soon enough we start noticing changes, changes in our way of thinking, our way of feeling and especially in our physical appearance. Those seem to be the toughest ones to endure, especially if you look in the mirror one morning and realize that you now have the all so prevalent jowls. THAT was a tough one for me, it seemed like they appeared out of nowhere.
Very early on in the book, Lori shares with us her journey, fight and eventual victory over breast cancer, and a double mastectomy. I felt her pain through the pages. She takes us from the moment of the phone call after her mastectomy, to her first visit with her oncologist, the treatments and everything in between. I so appreciate this as a woman because I think that breast cancer is one of those diseases that as women we all worry about, but aside from knowing woman who have been through it, we don't really have much insight into the steps, the process, the ups and downs and all the nitty gritty that follows such a diagnosis.
She then goes on to give awesome advice on everything from marriage, to growing older with grace, those pesky chin hairs that appear out of nowhere. Filled with life experiences, stories and advice for us older women, Lori puts forth a book that every woman should have on her bookshelf.