Publisher: Lake Union Publishing (August 10, 2021)
The USA Today bestselling author of When We Believed in Mermaids returns with a tale of two generations of women reconciling family secrets and past regrets.
Life's beautiful for seventysomething influencer Gloria Rose, in her Upper West Side loft with rooftop garden and scores of Instagram followers–until she gets word that her old flame has been arrested for art theft and forgery, and, knowing her own involvement in his misdeeds decades earlier, decides to flee. But that plan is complicated when the nieces she raised are thrown into crises of their own.
Willow, overshadowed by her notorious singer-songwriter mother, has come home to lick her wounds on the heels of a failed album and yet another disastrous relationship. Sam, prickly and fiercely independent, is on the verge of losing not only her beloved video game company but the man she loves, thanks to her inability to keep her always-simmering anger in check.
With the FBI closing in, Willow's career in shambles, and Sam's tribulations reaching a peak, each of the three woman will have to reckon with and reconcile their interwoven traumas, past loves, and the looming consequences that could either destroy their futures or bring them closer than ever.

Purchase Links
About Barbara O'Neal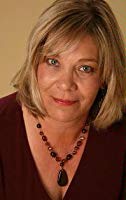 Barbara O'Neal is the author of twelve novels of women's fiction, including The Art of Inheriting Secrets, How to Bake a Perfect Life, and The All You Can Dream Buffet. Her award-winning books have been published in more than a dozen countries, including France, England, Poland, Australia, Turkey, Italy, Germany, and Brazil. She lives in the beautiful city of Colorado Springs with her beloved, a British endurance athlete who vows he'll never lose his accent.
Connect with Barbara


REVIEW:
I've always loved Barbara O'Neal, and I don't think there is a single book of hers that I haven't enjoyed reading.
Her last book called "When we Believed in Mermaids", which I reviewed here on the blog too, focused on two sisters, and likewise, so does Write my Name Across the Sky.
O'Neal is so good at writing family dynamics and relationships, that's it always a pleasure to dig into her stories.
Sam owns a gaming company, Willow is a musician. That is one set of sisters we get to know in the book, and the other set of sisters is comprised of Gloria and Billie. Gloria used to be a stewardess and Billie was a rock musician back in the 60s and 70s.
Ok now we know who the main players are, but what is the book about? Well, it is about family, loss, bonds, romance and everything in between. Though the book does focus on romance it is not the main theme and certainly doesn't overpower the story.
These are two generations of women, both dealing with their own issues, both trying to learn from the past.
I used to immensely dislike books that shifted between character stories, mainly because I would sometimes get so into one and then it shifted and I was lost along the way. But Barbara O'Neal is brilliant at what she does, and brings it all in flawlessly and in a way that you never skip a beat.
If you enjoy family driven stories, this is another to add to your library.
Thank you to TLC Book Tours and Lake Union Publishing for providing me with a review copy.