Mass Market Paperback:
384 Pages
Publisher:
HQN; Original edition (November 20, 2018)
Set sail for love in this sparkling new adventure in #1 New York Times bestselling author Victoria Alexander's Lady Travelers Society series.
Harry Armstrong has spent years in Egypt, recovering relics and disregarding rules. Now he's back in England with a new title and a new purpose: penning his exploits. But his efforts are overshadowed by London's favorite writer about Egypt—a woman they call The Queen of the Desert, of all things. Worse, her stories—serialized in newspapers and reprinted in books—are complete rubbish.
Miss Sidney Honeywell didn't set out to deceive anyone. It's not her fault readers assumed her
Tales of a Lady Adventurer in Egypt
were real! Admitting her inadvertent deception now would destroy her reputation and her livelihood. But when the Earl of Brenton challenges her to travel to Egypt to prove her expertise, accompanied by his dashing, arrogant nephew, what choice does she have but to pack her bags?
With the matchmaking founders of the Lady Travelers Society in tow, Harry is determined to expose Sidney's secret. But the truth might not be as great a revelation as discovering that love can strike even the most stubborn of hearts.

Purchase Links
About Victoria Alexander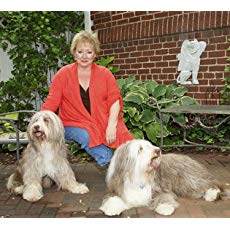 New York Times bestselling author Victoria Alexander was an award winning television reporter until she discovered fiction was much more fun than real life. She turned to writing full time and is still shocked it worked out.
Since the publication of her first book in 1995, she has written thirty-one full length novels and six novellas. Find a complete list on her
website
and chat with her on
Facebook
.
Connect with Victoria
My Thoughts:
Let me start by saying that I am a huge Victoria Alexander fan. I've always loved her historical fiction and when I had the chance to review this one, I jumped at the chance.
The novel takes place in Egypt which is so awesome as I've always been fascinated by the country itself.
Harry is very well acquainted with Egypt, after spending many years in the area looking for relics, and upon returning to England he has tried his best to get his own factual accounts of his travels published, to no avail. Everyone is abuzz with a certain female writer who embellishes her writings about adventures in Egypt, a place she herself has never been too.
When Earl Brenton challenges Miss Sydney to go to Egypt to prove that she in fact knows what she's talking about, all hell breaks loose, but in a good and comical way.
Sydney finds herself in the country she has only dreamed of visiting, right alongside the Earl's nephew, Harry. A battle of wills ensues as each tries to prove they know best, but what they're really fighting are the feelings that have started developing between them.
I loved this story, we not only get some quite funny moments, and truthfully the usual and predictable romance, but we also get to see a little of Egypt written in the way that only Victoria Alexander can do.