• Hardcover: 384 pages
• Publisher: The New Press (April 14, 2020)
A scathing and original look at the racist origins of psychiatry, through the story of the largest mental institution in the world
Today, 90 percent of psychiatric beds are located in jails and prisons across the United States, institutions that confine disproportionate numbers of African Americans. After more than a decade of research, the celebrated scholar and activist Mab Segrest locates the deep historical roots of this startling fact, turning her sights on a long-forgotten cauldron of racial ideology: the state mental asylum system in which psychiatry was born and whose influences extend into our troubled present.
In December 1841, the Georgia State Lunatic, Idiot, and Epileptic Asylum was founded. A hundred years later, it had become the largest insane asylum in the world with over ten thousand patients. Administrations of Lunacy tells the story of this iconic and infamous southern institution, a history that was all but erased from popular memory and within the psychiatric profession.
Through riveting accounts of historical characters, Segrest reveals how modern psychiatric practice was forged in the traumas of slavery, the Civil War, Reconstruction, and Jim Crow. Deftly connecting this history to the modern era, Segrest then shows how a single asylum helped set the stage for the eugenics theories of the twentieth century and the persistent racial ideologies of our own times. She also traces the connections to today's dissident psychiatric practices that offer sanity and create justice.
A landmark of scholarship, Administrations of Lunacy restores a vital thread between past and present, revealing the tangled racial roots of psychiatry in America.

Purchase Links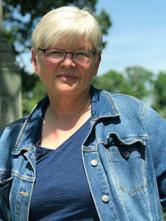 About Mab Segrest
Mab Segrest is professor emeritus of gender and women's studies at Connecticut College and the author of Administrations of Lunacy and Memoir of a Race Traitor (both from The New Press). A longtime activist in social justice movements and a past fellow at the National Humanities Center, she lives in Durham, North Carolina.
Connect with her on Instagram.
REVIEW:
Whew!!!
What a read and what a journey that Mab Segrest takes us on. If you're looking for a light, fun read, this is not the book for you. But if you're looking for factual, informative and jaw dropping stories, then pick yourself up a copy of Administrations of Lunacy.
I had no clue what I was in for. When I chose to be a part of this book tour, my thought was that it would be an interesting read as far as psychiatry and asylums, which is something I've always found really interesting. I went into the book with no preconceived notions, I wasn't even sure what I was about to delve into aside from the general subject of lunacy and it's history.
Mab Segrest does her research, and every single statement she makes, is immediately backed up with fact. It is not a book for the faint of heart. Period!
With that said, we are taken into the deep world of lunatic asylums and the racism fueled treatments that were administered to women and African Americans. Racism at it's highest. Disgusting to say the least.
I struggled at times to keep reading because my heart broke for these poor souls who were treated like they didn't matter, and all for the benefit of white rich men who only saw money as the means to an end.
The stories of these individuals will forever remain etched in my heart, I couldn't forget them even if I tried. Why do human beings inflict so much pain on each other? It is a question I don't think we will ever get a real answer to.
Hundreds upon hundreds of women and African Americans killed in these asylums, deprived of decency, denied medical care because they were deemed to be in the minority. The history of mental illness and psychiatry in this country, is marred by the atrocious acts perpetuated on these poor victims.
The book itself is not a smooth read by any chance, it reminds me almost of a medical journal or a history textbook, but the information and stories written in these pages are so poignant and so deeply touching that you can't but keep going. I don't think I will ever feel about psychiatry the same way I did before, this book was a huge eye opener.
Worthy of 5 stars!!!
Thank you to TLC Tours and the publisher for providing me with a review copy of this book, in exchange for my honest review.