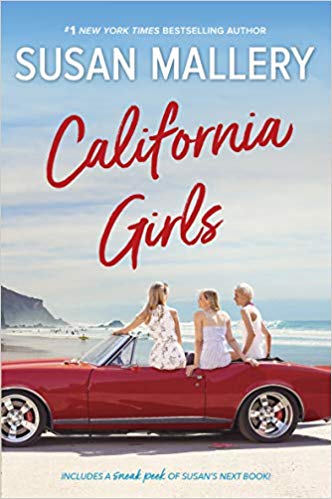 Hardcover: 432 pages
Publisher: MIRA; Original edition (February 26, 2019)
The California sunshine's not quite so bright for three sisters who get dumped in the same week…
Finola, a popular LA morning show host, is famously upbeat until she's blindsided on live TV by news that her husband is sleeping with a young pop sensation who has set their affair to music. While avoiding the tabloids and pretending she's
just fine
, she's crumbling inside, desperate for him to come to his senses and for life to go back to normal.
Zennie's breakup is no big loss. Although the world insists she pair up, she'd rather be surfing. So agreeing to be the surrogate for her best friend is a no-brainer—after all, she has an available womb and no other attachments to worry about. Except…when everyone else, including her big sister, thinks she's making a huge mistake, being pregnant is a lot lonelier—and more complicated—than she imagined.
Never the tallest, thinnest or prettiest sister, Ali is used to being overlooked, but when her fiancé sends his disapproving brother to call off the wedding, it's a new low. And yet Daniel continues to turn up "for support," making Ali wonder if maybe—for once—someone sees her in a way no one ever has.
But side by side by side, these sisters will start over and rebuild their lives with all the affection, charm and laugh-out-loud humor that is classic Susan Mallery.

Purchase Links

About Susan Mallery
#1 NYT bestselling author Susan Mallery writes heartwarming, humorous novels about the relationships that define our lives-family, friendship, romance. She's known for putting nuanced characters in emotional situations that surprise readers to laughter. Beloved by millions, her books have been translated into 28 languages.Susan lives in Washington with her husband, two cats, and a small poodle with delusions of grandeur. Visit her at SusanMallery.com.
Connect with Susan
My Thoughts:
California girls tells the story of three sisters, all at different stages in life and all facing life changes and situations that pull them closer together.
In the background, their overbearing, helicopter and at many times smothering mother. She is a bit of prickly, weird character, downright intrusive and demanding and not someone I much cared for in the book. Matter of fact, anytime her name popped up I got so irritated and couldn't wait for her to fly off the page again LOL
The sisters on the other hand are perfectly imperfect, and just glorious to read and watch. There's something about a story that takes a character and grows them right in front of your eyes, and Susan Mallery is perfect at doing just that.
But the story isn't all about struggles and strife and getting through hard moments in life, it has it's fair share of romance and laugh out loud moments.
Loved this book and highly recommend it.