Hardcover:
384 pages
Publisher:
William Morrow (October 8, 2019)
"Crombie's characters are rich, emotionally textured, fully human. They are the remarkable creations of a remarkable writer."—Louise Penny
New York Times bestselling author Deborah Crombie returns with a mesmerizing entry in her "excellent" (Miami Herald) series, in which Scotland Yard detectives Duncan Kincaid and Gemma James are pulled into a dangerous web of secrets, lies, and murder that simmers beneath the surface of a tranquil Cotswolds village.
Scotland Yard Detective Superintendent Duncan Kincaid and his wife, Detective Inspector Gemma James, have been invited for a relaxing weekend in the Cotswolds, one of Britain's most enchanting regions, famous for its rolling hills, golden cottages, and picturesque villages.
Duncan, Gemma, and their children are guests at Beck House, the family estate of Melody Talbot, Gemma's detective sergeant. The Talbot family is wealthy, prominent, and powerful—Melody's father is the publisher of one of London's largest and most influential newspapers. The centerpiece of this glorious fall getaway is a posh charity harvest luncheon catered by up-and-coming chef Viv Holland. After fifteen years in London's cut-throat food scene, Viv has returned to the Gloucestershire valleys of her childhood and quickly made a name for herself with her innovative meals based on traditional cuisine but using fresh local ingredients. Attended by the local well-to-do as well as national press food bloggers and restaurant critics, the event could make Viv a star.
But a tragic car accident and a series of mysterious deaths rock the estate and pull Duncan and Gemma into the investigation. It soon becomes clear that the killer has a connection with Viv's pub—or, perhaps, with Beck House itself.
Does the truth lie in the past? Or is it closer to home, tied up in the tangled relationships and bitter resentments between the staff at Beck House and Viv's new pub? Or is it more personal, entwined with secrets hidden by Viv and those closest to her?

Purchase Links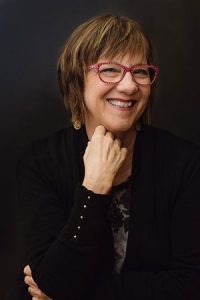 About Deborah Crombie
Deborah Crombie is a
New York Times
bestselling author and a native Texan who has lived in both England and Scotland. She now lives in McKinney, Texas, sharing a house that is more than one hundred years old with her husband, three cats, and two German shepherds.
Find out more about Deborah at
website
, and connect with her on
Facebook
,
Twitter
, and
Instagram
.
My Thoughts:
This book was such a joy to read. The setting, the story, the characters, all of it.
This is the 18th installment in the Gemma James and Duncan Kincaid series. Now don't let that stop you from reading it because even though it would have been nice to have followed these characters from the get go, this book does not read like a continuation or in a way that you feel you're missing something, or confused or totally lost in the story.
We start off with Gemma and Duncan planning a trip to spend a few days in the country. Gemma goes ahead with their 4 year old Charlotte, while Duncan is delayed and sets off on his own a couple of hours later.
This single moment becomes pivotal in the story, as Duncan gets into a huge car accident that thankfully does not seriously injure him, but does sadly take the life of the other car's two passengers.
The two passengers are Nell and a stranger to the small town. Someone Nell had just met a few minutes prior at the local pub and later offers a ride to, through the dark windy country roads. That moment would also become one of the biggest and most important in the story, because it does lead to Nell passing.
What is left is a story so intricate, complicated and filled with twists and turns, along with a group of of town people all wondering what exactly happened that night, why Nell would give a ride to a stranger, who the stranger was and what he was doing in their small tightly knit community and just how is he connected to the pub owner Viv.
I could not put this one down, not only did the beautiful rolling hills of the Cotswold keep me captivated, but a lot of food mentions and pubs and all that stuff that you know as someone who loves to cook, can't pass up.
I really need to look into more of Deborah Crombie's books, this was my first and I am now a fan.
Thank you to TLC Tours and the publisher for providing me with a review copy of this book, in exchange for my honest review.