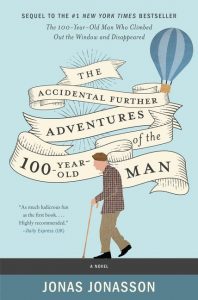 • Hardcover:
448 pages
• Publisher:
William Morrow (January 15, 2019)
The hysterical, clever, and unforgettable sequel to Jonas Jonasson's international bestseller
The Hundred-Year-Old Man Who Climbed Out of the Window and Disappeared.
He's back. Even older. Even funnier.
It all begins with a hot air balloon trip and three bottles of champagne. Allan and Julius are ready for some spectacular views, but they're not expecting to land in the sea and be rescued by a North Korean ship, and they could never have imagined that the captain of the ship would be harboring a suitcase full of contraband uranium, on a nuclear weapons mission for Kim Jong-un. Yikes!
Another hilarious, witty, and entertaining novel from bestselling author Jonas Jonasson that will have readers howling out-loud at the escapades and misfortunes of its beloved hundred-year-old hero Allan Karlsson and his irresistible sidekick Julius.
Social Media
Please use the hashtag #theaccidentalfurtheradventuresofthehundredyearoldman and tag @jonasjonassonauthor, @williammorrowbooks, and @tlcbooktours.

Purchase Links

About Jonas Jonasson
Jonas Jonasson is the author of the international bestseller
The Hundred-Year-Old Man Who Climbed Out of the Window and Disappeared
, now a major motion picture. Prior to his success as a novelist, Jonas was a journalist for the Swedish newspaper
Expressen
for many years, and later became a media consultant and founded a production company specializing in sporting events for Swedish television, which he sold before moving abroad to work on his first novel. He is the author of the internationally successful novels
The Girl Who Saved the King of Sweden
and
Hitman Anders and the Meaning of It All
. He lives on the Swedish island of Gotland in the Baltic Sea.
Find out more about Jonas at his
website
, and connect with him on
Instagram
,
Facebook
, and
Twitter
.
My Thoughts:
I think this may actually be the first book that I have read in a while, that I didn't enjoy. I am not interested in anything political and I stay away from politically heavy news, books or shows. There is far too much of that all around us, constantly. I read to get away, to have fun, to enjoy something that will take me on a trip somewhere without actually leaving my 4 walls.
I didn't read the first book in the series, so I can't say if it was the same, or if I would have felt towards the story the same as I do in this one. in that one, but for me, this just didn't work.
There are some comical moments, some funny dialogue, and the fact that Allan the main character is 101 years old, is interesting, but aside from that I really didn't care for the story and the setting, it didn't do it for me.
I am grateful to have been given the opportunity to review the book, by TLC, but unfortunately, I did not like it.