Paperback:
320 Pages
Publisher:
Graydon House; Original edition (March 1, 2019)
In the tradition of the lush historical dramas of Kate Morton, Philippa Gregory and Barbara Erskine,
USA TODAY
bestselling author Nicola Cornick's
The Woman in the Lake
is a delicious tale of jealousy, greed, plotting and revenge that spans the generations between decadent Georgian society and present day.
London, 1765
Lady Isabella Gerard, a respectable member of Georgian society, orders her maid to take her new golden gown and destroy it, its shimmering beauty tainted by the actions of her brutal husband the night before.
Three months later, Lord Gerard stands at the shoreline of the lake, looking down at a woman wearing the golden gown. As the body slowly rolls over to reveal her face, it's clear this was not his intended victim…
250 Years Later…
When a gown she stole from a historic home as a child is mysteriously returned to Fenella Brightwell, it begins to possess her in exactly the same way that it did as a girl. Soon the fragile new life Fen has created for herself away from her abusive ex-husband is threatened at its foundations by the gown's power over her until she can't tell what is real and what is imaginary.
As Fen uncovers more about the gown and Isabella's story, she begins to see the parallels with her own life. When each piece of history is revealed, the gown—and its past—seems to possess her more and more, culminating in a dramatic revelation set to destroy her sanity.
Discover why
Publishers Weekly
calls Nicola Cornick "a rising star"—watch for
The Woman in the Lake
, coming soon from Graydon House.

Purchase Links
About Nicola Cornick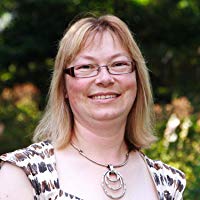 Connect with Nicola
My Thoughts:
Wow!!!! Just simply wow!!!!
My first ever Nicola Cornick book was The Phantom Tree, and it was so good that I immediately became a fan. When the opportunity came up to review her newest The Woman in the Lake, I was thrilled.
Let me start by saying that I was never a fan of books that take time in different eras, or flip back and forth constantly. I used to find them confusing, and honestly, not many authors can pull it off without making me lose my interest quickly.
Nicola Cornick is brilliant at his kind of genre. She weaves such a beautiful tale and slips in and out of time so seamlessly that you can't help but be enthralled by every page.
This time, the story begins in 1765 and 250 years in the future. When I first started reading, it reminded me of Lost in Austen, one of my favorite movies.
I loved Lady Isabella, she was a strong woman faced with the disdain of her husband and the cruel way he treated her. She also was surrounded by people she wouldn't exactly trust, one of those being her maid Constance, a jealous and nasty woman who doesn't exactly hide the fact that she doesn't much care for her employer.
Lady Isabella receives a gorgeous silk golden gown from her husband, and while wearing the gown that same very night, he does something unthinkable. He rapes her.
She wants nothing to do with this gown, but nonetheless orders her maid to put it away and not dispose of it. Constance on the other hand is following orders from her master who in turn orders her to get the dress and destroy it. Her thought is, she will keep it for a while and then destroy it, therefore not exactly refusing the orders of either one. What she doesn't know that is that Lady Isabella is not stupid and knows that Constance is under her husband's orders.
Now let's fast forward 250 years. Fen is on a school outing visiting a gorgeous estate, when she finds herself alone in a gorgeous bedroom with quite a fascinating closet. The next thing she knows, she has slipped into what seems a time warp and she is now surrounded by the noises, and daily life of the 1700's. The gorgeous golden gown catches her eye and before she can stop herself, she slips it into her bag.
She has never been able to explain why she took the gown, or what exactly happened in that estate that only she seemed to have experienced.
Many years later, Fenella is a grown woman just trying to live a normal life, when a package arrives at her door. A package from her late grandmother who she used to live with while growing up. Inside the package.......the golden gown she stole.
The gown seems to have some sort of evil attached to it, a strange power that seems to possess the living and make them do things they don't want to.
Fenella is determined to find out the history of the gown, the estate and the owner, and when she starts digging into the past, she starts realizing that maybe her life and Lady Isabella's is not that different after all.
This was such a fascinating and interesting story to read, I could.not.put.the.book.down!!!!!
I'm such a huge fan of Nicola Cornick, and can NOT wait for her next book.