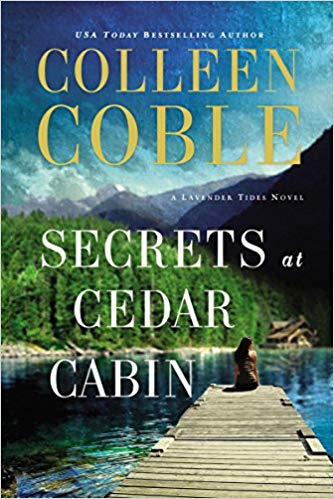 Hardcover:
352 Pages
Publisher:
Thomas Nelson (January 22, 2019)
From USA TODAY bestselling author Colleen Coble comes the third book in her beloved Lavender Tides series.
Her mother lied about her identity and her husband wasn't who she thought he was—can Bailey even trust herself anymore?
Running for her life in the wake of her mother's murder, Bailey Fleming escapes to the only place she can think of—a remote, dilapidated cabin in Lavender Tides. Intending to finally get to the truth behind the lies of her past, Bailey only finds more questions when bodies are discovered near her cabin hideout along with traces of a dangerous human trafficking ring. In an unlikely partnership with FBI agent Lance Phoenix, Bailey races to understand the mystery surrounding her life and circumstances before the murderer tracks her down.
Meanwhile, Lance is determined to rescue his sister, Ava, who was abducted after running away from home as a teenager. An unexpected lead brings him to the remote cabin, and he wonders if Bailey—with her suspicious past and strange connections to his sister's case—is really who she claims to be and if she can somehow lead him to Ava.
Filled with Colleen Coble's custom blend of suspense and romance,
Secrets at Cedar Cabin
takes us back to the evocative landscape of Washington's coast where nothing is quite as it seems.

Purchase Links
About Colleen Coble
Best-selling romantic suspense author Colleen Coble's novels have won or finaled in awards ranging from the Best Books of Indiana, the ACFW Carol Award, the Romance Writers of America RITA, the Holt Medallion, the Daphne du Maurier, National Readers' Choice, and the Booksellers Best. She has nearly 4 million books in print and writes romantic mysteries because she loves to see justice prevail. Colleen is CEO of American Christian Fiction Writers. She lives with her husband Dave in Indiana.
Connect with Colleen
My Thoughts:
I fell in love with Colleen Coble, sometime last year. I had never been a fan of mystery or suspense books, but the first time I picked up a Colleen Coble book, I fell pretty hard. She is just magnificent in her writing.
Secrets at Cedar Cabin is the third in the Lavender Tides series. If you remember, last year we looked into The House at Saltwater Point and The View from Rainshadow Bay.
Coble brings it all full circle with the release of Secrets at Cedar Cabin, with the story of Bailey and Lance.
Bailey receives shocking news, her mother has been murdered, and from the moment that sinks into her brain, she is off on a dangerous and exciting journey. Fleeing for her life, Baily moves to Lavender Tides, a place she has never been before, but one that she hopes will give her the security she needs.
One of the themes in this book is the horrible reality of human trafficking. We all hear about it on the news, but we don't always take the time to really understand how horrifying this is, and just how blatant the threat is around us.
Bailey and Lance fall head over heels, and we are privy to a sweet kind of love that is also fraught with despairing situations that push their faith and love to the limits.
I honestly wish that this wasn't the last in the series, I would love it to continue, but I also know that Colleen Coble couldn't have ended the Lavender Series in a better way. She truly brings it all full circle.