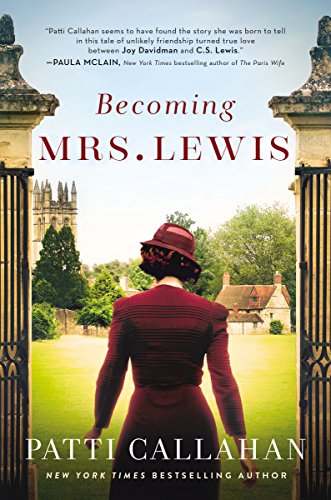 Hardcover:
432 Pages
Publisher:
Thomas Nelson (October 2, 2018)
In a most improbable friendship, she found love. In a world where women were silenced, she found her voice.
From
New York Times
bestselling author Patti Callahan comes an exquisite novel of Joy Davidman, the woman C. S. Lewis called "my whole world." When poet and writer Joy Davidman began writing letters to C. S. Lewis—known as Jack—she was looking for spiritual answers, not love. Love, after all, wasn't holding together her crumbling marriage. Everything about New Yorker Joy seemed ill-matched for an Oxford don and the beloved writer of Narnia, yet their minds bonded over their letters. Embarking on the adventure of her life, Joy traveled from America to England and back again, facing heartbreak and poverty, discovering friendship and faith, and against all odds, finding a love that even the threat of death couldn't destroy.
In this masterful exploration of one of the greatest love stories of modern times, we meet a brilliant writer, a fiercely independent mother, and a passionate woman who changed the life of this respected author and inspired books that still enchant us and change us. Joy lived at a time when women weren't meant to have a voice—and yet her love for Jack gave them both voices they didn't know they had.
At once a fascinating historical novel and a glimpse into a writer's life,
Becoming Mrs. Lewis
is above all a love story—a love of literature and ideas and a love between a husband and wife that, in the end, was not impossible at all.
Check out this audio clip of chapters 1 & 2: CLICK HERE

Purchase Links

About Patti Callahan
Patti Callahan (who also writes as Patti Callahan Henry) is a
New York Times
bestselling author. Patti was a finalist in the Townsend Prize for Fiction, has been an Indie Next Pick, twice an OKRA pick, and a multiple nominee for the Southern Independent Booksellers Alliance (SIBA) Novel of the Year. Her work has also been included in short story collections, anthologies, magazines and blogs. Patti attended Auburn University for her undergraduate work, and Georgia State University for her graduate degree. Once a Pediatric Clinical Nurse Specialist, she now writes full time. The mother of three children, she lives in both Mountain Brook, Alabama and Bluffton, South Carolina with her husband.
Connect with Patti
My Thoughts:
I had heard of C.S Lewis before, and had actually read some of his books, most notable The Case for Christianity, but I had no clue who his family was, or specifically his wife. Truth be told I didn't even know he was married, because it never crossed my mind to find out.
This book is not only fascinating, but it brings insight into what life was life behind the scenes for Lewis and Joy Davidman. A couple who for all intents and purposes, wasn't exactly perfectly matched, but through life's ups and downs and faith filled moments, found love.
The use of letters exchanged between both Lewis and Joy, helped to construct an image of what they were thinking and feeling.
Joy Davidman is the quintessential modern woman but in a time where woman had no voice. She had to learn to juggle a career as a poet, a family life that is crumbling around her and a husband that has affairs, drinks and belittles her every chance he gets. She finds refuge in the letters she shares with C.S. Lewis, or Jack as she knows him.
I honestly had no clue what to expect when I opened the book, but I enjoyed the story immensely and suggest it to anyone who is a fan of C.S. Lewis and his works.