Hardcover:
464 Pages
Publisher:
Tyndale House Publishers, Inc. (October 9, 2018)
Miss Eleanor Sheffield is a talented evaluator of antiquities, trained to know the difference between a genuine artifact and a fraud. But with her father's passing and her uncle's decline into dementia, the family business is at risk. In the Victorian era, unmarried Eleanor cannot run Sheffield Brothers alone.
The death of a longtime client, Baron Lydney, offers an unexpected complication when Eleanor is appointed the temporary trustee of the baron's legendary collection. She must choose whether to donate the priceless treasures to a museum or allow them to pass to the baron's only living son, Harry–the man who broke Eleanor's heart.
Eleanor distrusts the baron's motives and her own ability to be unbiased regarding Harry's future. Harry claims to still love her and Eleanor yearns to believe him, but his mysterious comments and actions fuel her doubts. When she learns an Italian beauty accompanied him on his return to England, her lingering hope for a future with Harry dims.
With the threat of debtor's prison closing in, Eleanor knows that donating the baron's collection would win her favor among potential clients, saving Sheffield Brothers. But the more time she spends with Harry, the more her faith in him grows. Might Harry be worthy of his inheritance, and her heart, after all? As pressures mount and time runs out, Eleanor must decide whom she can trust–who in her life is false or true, brass or gold–and what is meant to be treasured.

Purchase Links
About Sandra Byrd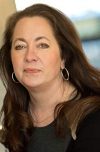 Sandra Byrd's first series of historically sound Gothic romances launched with the best-selling Mist of Midnight, which earned a coveted Editor's Choice Award from the Historical Novel Society. The second book, Bride of a Distant Isle, has been selected by Romantic Times as a Top Pick. The third in the series, A Lady in Disguise, was named by the American Library Association's Booklist as one of the Top Ten Inspirational Fiction Books of the year.
Her contemporary adult fiction debut, Let Them Eat Cake, was a Christy Award finalist, as was her first historical novel, To Die For: A Novel of Anne Boleyn. To Die For was also named a Library Journal Best Books of the Year Pick, as was The Secret Keeper: A Novel of Kateryn Parr.
Victorian Ladies, a new series, offers its first title, Lady of a Thousand Treasures, in 2018.
Connect with Sandra
My Thoughts:
I have to begin by saying that Sandra Byrd has been one of my favorite authors for a very long time, she just has a way of writing that flows so incredibly easy through the book. I find that I can read it without any kind of difficulty, without getting bored, without feeling like it just drags on and on.
Now back to the book, which I can only describe with one word. FANTASTIC!!!!
Lady of a Thousand Treasures is the first title in her new series entitled Victorian Ladies, and boy what an amazing first book it was.
I had the hardest time putting it down, and got quite frustrated when real life interfered and didn't allow me to sit for hours and hours, lost in Victorian times, following the beautiful Eleanor Sheffield.
Eleanor's father and uncle run the very well known Sheffield Brothers, a company that deals in evaluating antiquities. When her father passes away, Eleanor is left to pick up the slack and help her uncle keep the company afloat, but things don't go as planned, as she quickly begins to realize that something is very wrong with her uncle. From an unexpected robbery in an alley, to his rants that make no sense, and the sudden discovery of unpaid debts, she quickly realizes that he is slipping into a state of dementia. This leaves Eleanor to take over the reigns of the Sheffield Brothers, in an era that women are not looked upon favorably to run any kind of company.
As Eleanor struggles with her new unwanted responsibility, she is also faced with the threat of losing her family home due to the unpaid rent, water and electric bills which her ailing uncle has failed to pay.
In the midst of all this, a huge deal lands on her lap. Her late client Baron Lydney has died, and left Eleanor with an impossible task at hand. She is the trustee to his huge collection, and therefore required to evaluate all the pieces and decide whether to donate them or hand them over to his son, Lord Lydney. But there's a catch here, because Harry Lydney is not just anyone, he is the man she has been in love with for as long as she can remember, the same man who seemed to return her affection but then took off and didn't return for a very long time.
Caught between wanting to do the right thing or trusting the man she loves, Eleanor must figure out if he is worthy, if he is the man she believes he is, or if he is the rascal and liar that his own father has painted him to be.
I honestly could NOT stop reading, and I'm so looking forward to the next books in the Victorian Ladies series.