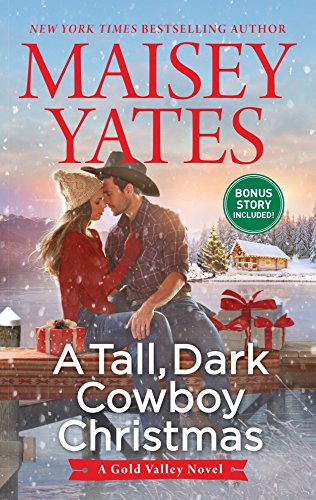 Mass Market Paperback:
496 Pages
Publisher:
HQN; Original edition (October 1, 2018)
It's Christmas in Gold Valley, and this wounded widower is about to get another shot at love…
Grant Dodge didn't expect to find a woman sleeping in an abandoned cabin on his family ranch. Or to find her so intriguing. Unlike every other woman in town, McKenna Tate doesn't know Grant's a widower. There's no pity in the looks she gives him. McKenna wants him, and Grant has forgotten what it's like to feel like a man. A no-strings fling for Christmas might be the kind of holiday cheer Grant needs…
With only a suitcase to her name, McKenna came to Gold Valley to confront her birth father. She didn't plan to work at the Dodge ranch or fall for the gorgeous cowboy who keeps his heart roped off. But there's no denying the way their broken pieces fit together. Hope brought her to Gold Valley—but will it be the gift that could finally heal Grant, and McKenna's own wounded heart?
Also includes a bonus Gold Valley novella, Snowed in with the Cowboy!

Purchase Links

About Maisey Yates
New York Times and USA Today Bestselling author Maisey Yates lives in rural Oregon with her three children and her husband, whose chiseled jaw and arresting features continue to make her swoon. She feels the epic trek she takes several times a day from her office to her coffee maker is a true example of her pioneer spirit.
In 2009, at the age of twenty-three Maisey sold her first book. Since then it's been a whirlwind of sexy alpha males and happily ever afters, and she wouldn't have it any other way. Maisey divides her writing time between dark, passionate category romances set just about everywhere on earth and light sexy contemporary romances set practically in her back yard. She believes that she clearly has the best job in the world.
Connect with Maisey
My thoughts:
It's that time of year to start getting into the Christmas Spirit. I know, we haven't even had Halloween or Thanksgiving, but truthfully for me, when it gets midway through October, I go full Christmas mode.
Just in time for that, I got Maisey Yates newest Christmas romance "A Tall Dark Cowboy".
It's everything you could ask for in a romance story, filled with holiday cheer and very handsome cowboys.
Here we have the quintessential romance characters. Both been through rough patches in their lives, both discouraged, and both not looking for any long term commitment, but, there's that nagging chemistry and the attraction between two people who would rather be anywhere but near each other.
It's the usual romance story that I absolutely love, and no matter how much I know the ending, or what is surely to come, I still can't help reading, and loving every moment, and falling in love with the characters and their antics as they try to avoid what they both know is going to happen anyway.
Super cute story that is sure to get you in the Christmas spirit :)